Our Dedication to Transparency
100% of Donations Go Directly Toward Helping Families in Need
For your convenience, after selecting your giving option and level, we will automatically send you reminder invoices in order to help you easily fulfill your commitment.
You can directly monitor the progress your adopted family is making through letters, e-mails or phone calls. You may also choose to remain anonymous.
Direct contact with your adopted family guarantees that they receive 100% OF YOUR DONATION. Ask them yourself!
Adopt a family for one month.
100% of your donation goes to the family
Feeds a family of 5
Family will thank you personally
A Note About Account Management
Attention donors:
The Adopt A Refugee Family (AARF) Committee in consultation with our Diocese has decided to utilize the funds sitting in our AARF account to earn as much interest as possible while waiting to be wired to our refugees; therefore we are putting our funds in either CD or money market. There is no risk in both CD or Money Market.
All interest earned will be used to help more refugee families.
We continue to be fully committed to 100% transparency and welcome any questions or suggestions.
What happens to your donation before it reaches the family?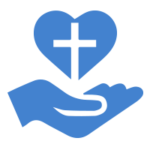 Donations received from donors
Funds received and confirmed by Jesuits
Adopted Family Receives 100% of Donated Funds
Donors receive a signed receipt from Refugee family
Need more information?
Please note our TAX ID # is 501(c) 38-2953203